Making the Hospitality Sector Smarter through Technology.
With over 17 years supplying the hospitality sector, Fifteen Group have a solution for you.
We work with the hospitality sector to meet the ever changing needs and demands of hotels, restaurants and other venues.
We provide award winning technology solutions and partner with the best in technology products to ensure the hospitality industry is Smarter through Technology.
We are your complete technology solutions provider, supplying telecommunications, IT and software solutions. No matter what your technology requirements, Fifteen Group can design, install and support solutions, so you can concentrate on enhancing the customer experience.
Solutions
Telephone Systems
We partner with NEC to provide our clients within the hospitality sector with the latest in telecommunications technology.
The SV9100 platform is NEC's newest system, with new handsets and new applications to empower your workforce. Built on the back of the award winning SV8100 technology, the SV9100 provides double the system capacity, yet cost effective from 10 to over 800 users.
Benefits
Double the system capacity

.
Yet it is cost effective from 10 to over 800 users.

Multi-carrier SIP support.




Offering greater resilience and more cost effective routing of calls

Provides VoIP and Traditional Voice Support

.




Deploys a pure IP solution or any combination of IP and traditional circuit-switched technology with a single SV9100 system

Application Integration.


Embedded applications are easily accessed through simple licence activation
Scalability.


As a business's communication needs grow, be assured that the SV9100 will meet that demand.

Stackable Architecture.


The SV9100's rack stackable chassis supports server functions, media gateways and media converters through a single unit.
We design a telephone system on your exact requirements and as it is inbuilt with NEC Toll Guard, your business is always protected from telephone system fraud.
Telephone System Maintenance
We provide ongoing support and technical advice after the installation of a telephone system.
Essential for the hospitality sector, this can be accessed out of office hours and over weekends ensuring that when you are most busy, any technical malfunctions can be resolved as quickly as possible.
Even if we didn't install your original system, we can still provide maintenance and support.
Telephone systems include:
NEC SV9100
NEC SL1100
Univerge 3C
Hosted Voice Select
InHotel
Cost-effective solution for hotels providing easier bookings, billings & administration.
NEC's InHotel combines front-of-house and PMS features together with tightly integrated telephone system functionality.
Ideal for hotels of up to 120 rooms, this easy to use platform is designed to increase your staffs' productivity, enhance guest experience and significantly lower your running costs.
And as one of NEC's InApps – all the technology is built-in with no cost and maintenance of extra PC servers creating a seriously competitive price point.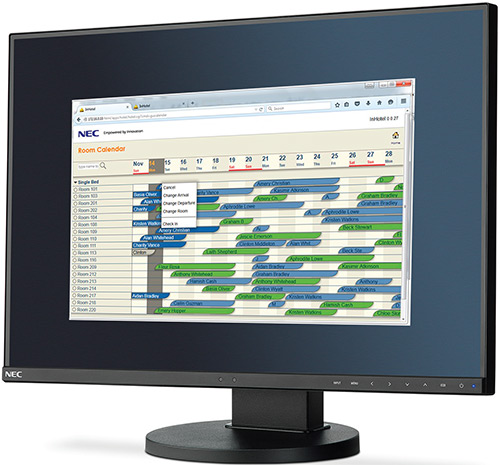 Find out more…
InHotel Business Benefits
Increase your productivity levels: time-saving features for all your staff
Enhance customer service levels: Faster check-ins, check outs; sharper response times
Lower costs: Single initial cost, no recurring monthly subscriptions
On-board application: no extra PC serverhardware or maintenance
Easy to use: minimal / no training required
Always on 24/7: Browser-based; remote access
Easy, flexible & faster billing: room rates, variable VAT, call costs, mini bar, spa, restaurant & more
Complete hotel room management: real-time status dashboard

At a Glance
Complete room booking, billing & hotel administration
Easy to use interface
Integrates with PBX communication functionality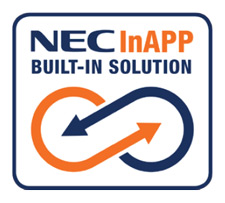 As one of NEC's InApps solutions, features include:
Built-in / embedded application
Browser-based & available 24 / 7
Extremely cost-effective
No extra PC / Server required – data is stored on the CPU
Save on hardware costs & IT maintenance
Platform & Licensing
NEC platforms supported: SL1100, SL1000 & SV9100
InHotel is available as 4 & 16 rooms licenses and can be used in multiples
SL1x00 Maximum rooms: 32
SV9100 Maximum rooms: 120
SL1x00 requires the following system licenses:
Hotel license: 1
PMS license: 1
InHotel License (EU000326): 1
InHotel 4 rooms (EU000328): 0-8
InHotel 16 rooms (EU000329): 0-2
SV9100 requires the following system licences:
Hotel license: 1
PMS license: 1
InHotel license (EU000327): 1
InHotel 4 rooms (EU000330): 0-30
InHotel 16 rooms (EU000331): 0-7
Front of House Features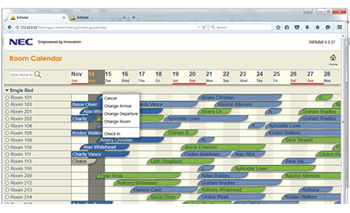 Room Calendar
See current and future guests on a colour coded calendar view
Jump to Date
Quick access to any future date
Guest Filter
Easily find a guest reservation or stay using the filters
Room Management
See colour coded status of all rooms (clean/dirty/service required)
Folio Management
Add charges for services and products to guest folio
Invoice Generation
Complete invoice generation for room rates, products, services & telephone calls
Message Service
Capture messages for guests with automatic room notification
Flexible Room Rates
Based on calendar dates or days of week
Multiple Connections
No license for additional connections, folio items can be added by housekeeping or restaurant
Guest Stay Information
Capture information about the guest, contact details and stay reasons
Custom Products & Services
Can be created & added to guest folio
Telephony Features
Checkin/Checkout Functions
Automatically control telephone restrictions
Guest Name Display
Guest name is transferred when the guest checks in, displayed on reception phone when a call is received from the room
Telephone Billing
All calls are captured and billed against the guest folio
Flexible Rates
Custom rates can be configured to allow the hotel to set their own call rates
Multiple Telephones
Multiple telephones can be grouped into a single room and billed to a single guest stay
Hotelier Control
The hotelier can set call restrictions (local only/local & national/ international), block room to room calls and set Do Not Disturb feature from the hotel console
Centralised Wakeup Call Management
Wakeup calls can be set by the guest or hotelier & managed, modified or cancelled within InHotel
Public Wifi
It is delivered over a virtual private network (VPN) making it secure and private, so there is no need to worry that your information is at risk while you're using it or that your customer's data is either.
With multiple benefits for both customer and business, there has never been a better time to embrace what free Wi-Fi has to offer.
Installing a free public Wi-Fi service at your premises is simple and inexpensive:
Capitalise on flexible working.
Venues that offer free Wi-Fi are extremely popular as a place for meetings and remote working.
Accumulate customer data.
Target products and services with a better understanding of your customers.
Reinforce your brand.
Increases the recognition of your brand with a public wifi landing page.
Increase time spent on premises.
Businesses that offer free Wi-Fi see an increase in the amount of time customers spend on their premises.
Put your business on the map.
Boost your business in the google rankings and increase visibility in google maps.
Attract new customers.
Venues that offer free Wi-Fi can attract new customers and a new audience.
Fifteen Group offer public Wi-Fi as an integral part of our comprehensive broadband service.

Data Cabling
Fifteen Group make sure that are all your systems are networked together providing an efficient and effective system.
This can include till systems, printers and WiFi and much more. Your data cables form the foundation of your system and we can work with existing cabling or provide a brand new network around your infrastructure.
Managed IT Support
Fifteen Group provide managed IT support for the hospitality sector out of office hours and over weekends, so when you encounter an IT problem during your busiest times, we can work to resolve it as quickly as we can.
With our tailored IT support packages, we provide assistance remotely as well as on site where IT engineers resolve problems that can't be fixed through our IT help desk facility.
This allows you to manage budgets and improve productivity within your workforce all from one company – Fifteen Group.

Fifteen Group ensures the hospitality sector is Smarter through Technology.